History of the Singapore Art Museum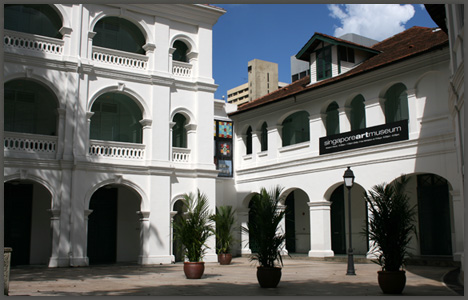 For 120 years, this was the home of St Joseph's Institution (SJI), a missionary school. Founded by the French priest Father Jean-Marie Beurel and a small group of LaSalle Brothers on 1 May 1852, the school was open to boys of all religions. Construction of the first building began in 1855 and took 12 years to complete.
The curved semi-circular wings with generous verandahs were completed in 1903 when the original building was enlarged to the design of Father Charles Nain. As the enrolment increased, new facilities were added, including the Anderson Block (1907), the school hall and the Chapel (1912).
In 1987, the school moved to larger grounds in Malcolm Road. However, the statue of St John Baptist de La Salle by Cesare Aureli was left behind as a remainder of SJI's rich heritage. The restoration of the building to an art museum commenced in 1992. The guiding philosophy was to respect the original building fabric while integrating the requirements for a state-of-the-art museum. The three historical structures, the Central Building, the Anderson Block and the Chapel were retained.
The Singapore Art Museum was officially opened on 20 January 1996. Its mission is to preserve and present the art histories and contemporary art practices of Singapore and the Southeast Asian region, so as to facilitate visual arts education, exchange, research and development.
The Glass Hall
The multipurpose hall located beyond the lobby area was recreated as a frameless glass enclosure, the glass adding a modern touch to an original space, and at the same time allowing light and transparency while being incorporated seamlessly with the public spaces of the museum.